Notary Public Service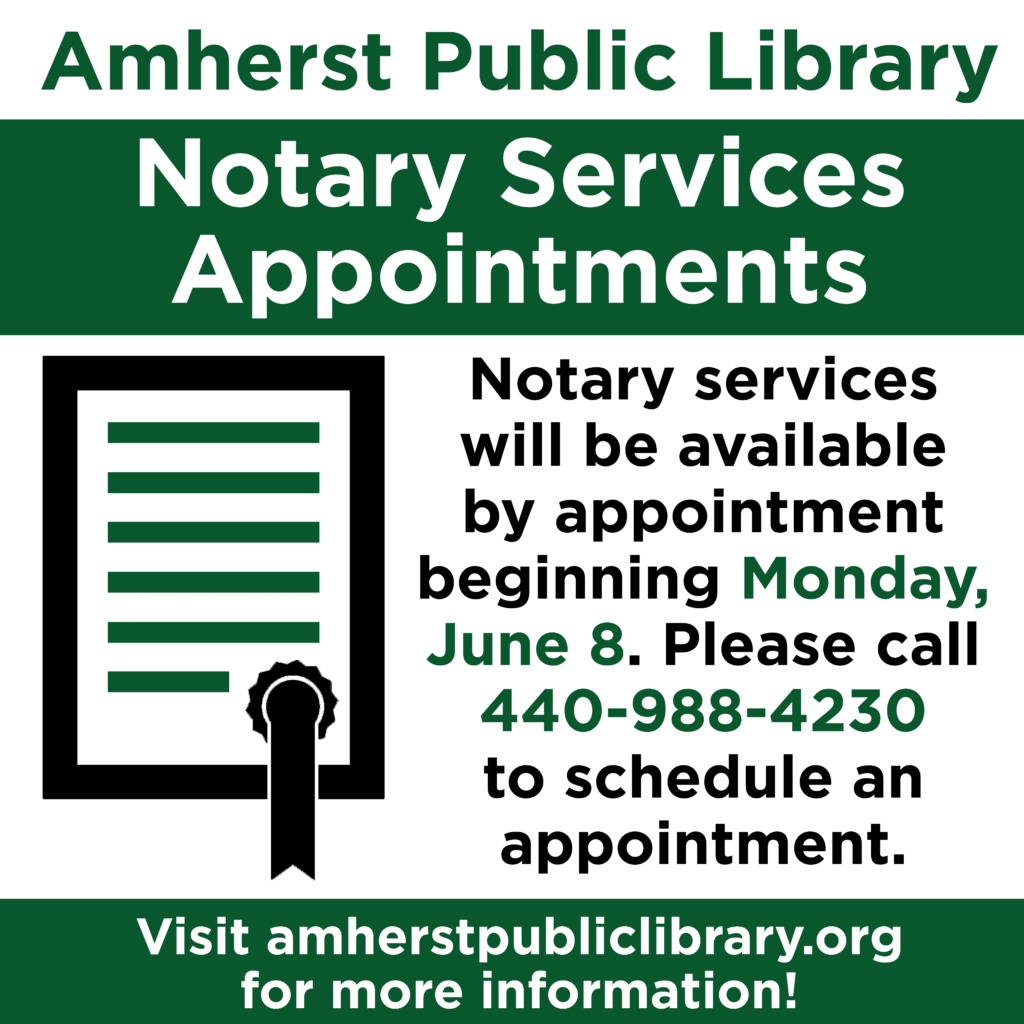 Notary Services by Appointment
Notary services will be available by appointment beginning Monday, June 8. Hours for this service will vary as a Notary Public may not be available during all open hours. Please call (440)988-4230 to schedule an appointment. Amherst Public Library does not charge for Notary services.
When you arrive for your appointment, please do not park in any of the spaces reserved for Curbside Pickup services. Call (440)988-4230 to let us know you have arrived and a member of our staff will meet you at the Spring Street entrance to escort you through the building.
The Amherst Public Library offers free limited Notary Public services for the benefit of
the community. Appointments are not required, but it is recommended that patrons call
the library at (440) 988-4230 in advance to verify that a notary is available. Online
notary services are not available.
Guidelines:
Do not sign documents you need to have notarized.
Bring a valid form of photo identification for each person signing the document(s).
If your document requires more than one witness you must bring the additional
witness with you. Witnesses must know you personally and must also have valid
photo identification. Library staff and patrons cannot serve as witnesses.
Library notaries offer only basic services. For complex requests or requests
outside the notaries' experience/expertise you may be referred to another
provider.
Our notaries reserve the right to decline service in cases that raise any issue of
doubt.
Documents we will not notarize:
Real Estate
Wills
Homeland Security I-9 Forms
Documents written in languages other than English
Auto titles without buyer address and name (State law requires this section is
completed regardless of circumstance)
Ohio notaries cannot certify documents. We will not certify copies of birth,
marriage, death, divorce or naturalization certificates.
Notaries adhere to the Ohio Revised Code: Section 147.
Adopted by the Amherst Public Library Board of Trustees 8/11/2015.
Revised by the Amherst Public Library Board of Trustees 10/14/2019.